Soft Drink & Juices Packaging Industry
The sector of juices and soft drinks is an ever-growing market and includes a wide diversity of processes to respond to the ever-changing trends requesting new flavours and/or new packaging.
That's where we come in. Because we genuinely care about our client's success.  Whether a client is in need of packaging solutions for juice products or conveying systems for carbonated beverages, we've got the knowledge and expertise to make it happen.
We're a learning company — through and through.
Our Clients
Descon packaging systems and services have been used extensively in the growth of some of the most recognized juice and soda brands in the marketplace, such as Coca-Cola, Pepsi-Cola, Refresco, and many other valued clients.
We produce packaging solutions for all types of juices and soda products.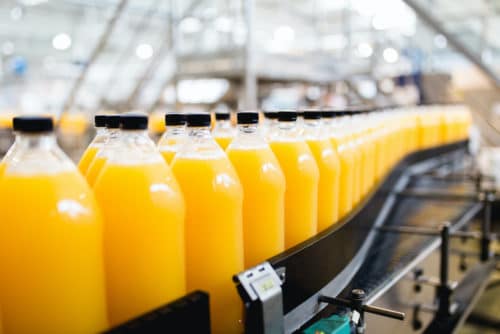 Trends in Drink Packaging
One of the prevalent trends in today's marketplace is fitness and health consciousness, which has driven increased interest in beverage products such as vitamin waters, fruit juices, and energy drinks.
However, as people's preferences change so rapidly within different target markets, we know it is necessary to remain forward-thinking and flexible when it comes to designing our drink production lines and conveyor systems.
Robotic Packaging Solutions
As the packaging industry evolves, many of our customers are looking for innovative ways to modernize their production lines, allowing us to get creative.
Our new robotic technology can be customized to fit a variety of applications and unique package styles.  
The Descon Difference
With a versatile skill set, Descon engineers and designers have the knowledge and expertise to support any and all of your beverage packaging needs.
Our focus is to LEARN. INNOVATE. DELIVER! And we do so with the professionalism and quality that you require and expect.
See Soft Drink Conveying Solutions in Action
Empty Can Handling for Flex Can Line at 1800cpm
Our extensive empty can handling experience covers the integration of our bulk depalletizer and mass empty can conveyors.
Our solution includes vacuum transfers for the elimination of down cans and/or coding, high-speed single-filing (pressureless or DeckJet type) and Ionized Air Rinsers.
We provide quick, reliable and straightforward changeovers and integration of cut-offs. These features are unique to Descon and separate us from the rest.
Products uniquely designed for soft drink and juice manufacturers:
Get in touch with one of our Account Managers today to discuss your project.