Propelling Growth through Full Line Supply and Integration for Schilling Cider
At Descon Integrated Conveyor Solutions, we take pride in building strong relationships with our innovative clients. 
Our partnership with Schilling Cider is no exception. 
Check out our full, behind-the-scenes video featuring Schilling Cider, and then read on for more details.
Like Descon, Schilling Cider has strong roots in its community and is dedicated to providing the best of the best to its customers. 
That's why we're thrilled to share how we collaborated with Mark Kornei, CFO/Co-Founder of Schilling Cider, to develop and deliver a long-term solution that continues to propel Schilling Cider's growth.
"It's always a highlight for our Descon team when we're able to work with a company that shares our same values and goals. Schilling is deeply passionate about their work, and their dedication to collaboration in working toward their goals is admirable. We couldn't ask for a better partner." – Dave Farquhar, Chairman & Co-Founder of Descon 
Getting to know Schilling Cider
In 1881, Schilling Cider's CEO, Colin Schilling's great-great-grandfather, August, founded the Schilling Spice Company in San Francisco, with the goal of bringing pure, natural spices to everyone at a fair price. 
Today at Schilling Cider, August's core values are carried forward and paired with innovative cider-making techniques to produce quality and complex hard ciders.
Schilling Cider captures the essence of the Pacific Northwest by creating ciders that are deliberately innovative, bold, and flavor-forward. 
"Schilling uses only 100% freshly pressed apples, locally sourced non-GMO ingredients, and individually hand-selected yeast strains to create a truly unique cider experience." – Mark Kornei, CFO/Co-Founder of Schilling Cider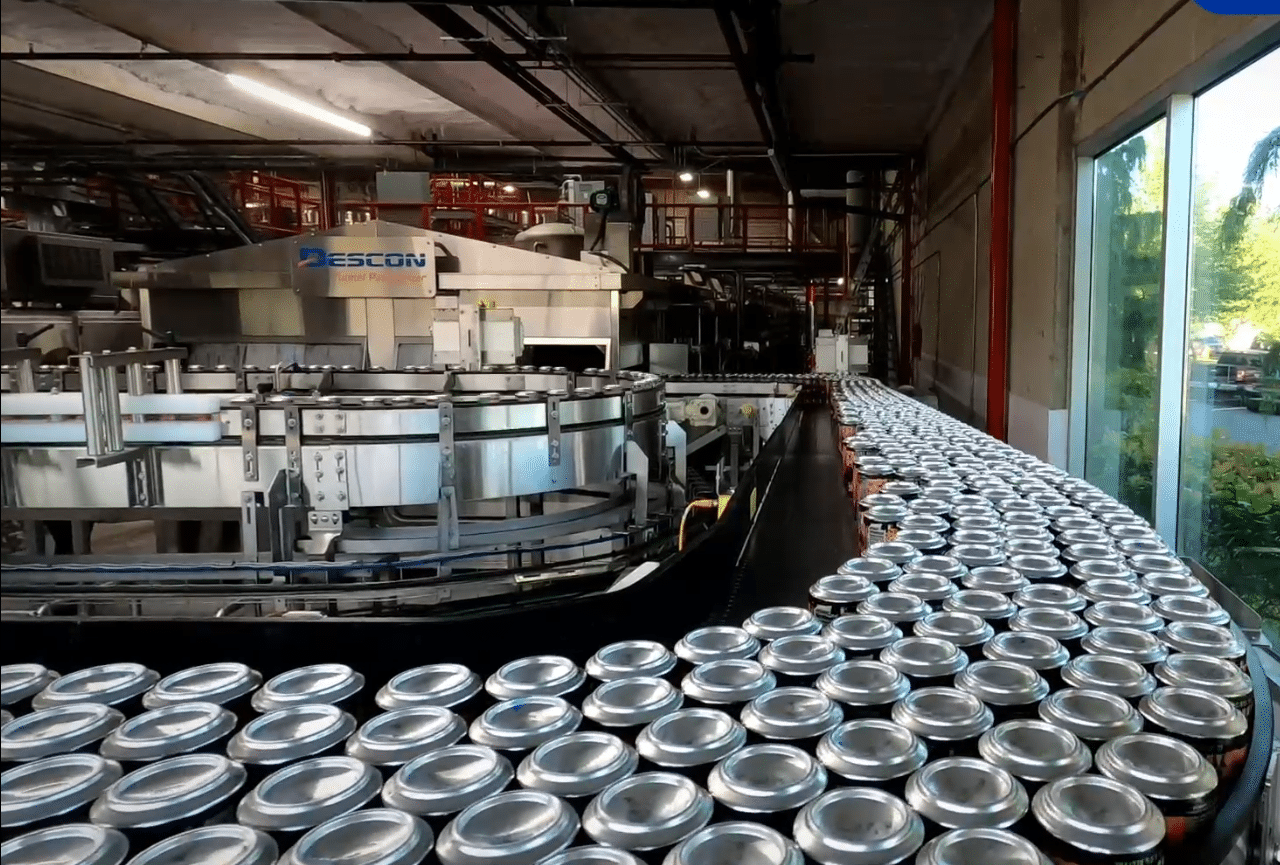 Working with Descon Integrated Conveyor Solutions
When Schilling Cider first approached us, they were already a fast-growing craft brand that had skipped the usual step of buying the type of line that most mobile canners use. 
Instead, Schilling had been depending on a co-packer to package their product for several years.
However, the Schilling Cider team eventually began to notice several shortcomings in relation to handling quality, lack of packaging options, and an inflexible schedule.  
"Our story was a bit unique… We knew going into this that long term we would be bringing packaging in-house but we needed to grow to a point to justify the type of canning line that we wanted to own." – Mark Kornei
Once the time came for a more advanced solution, Schilling Cider began to meet with craft companies to build a small-scale canning line that could be built and rebuilt. 
It was through this process that Schilling discovered they needed a more sophisticated solution to propel their growth long-term.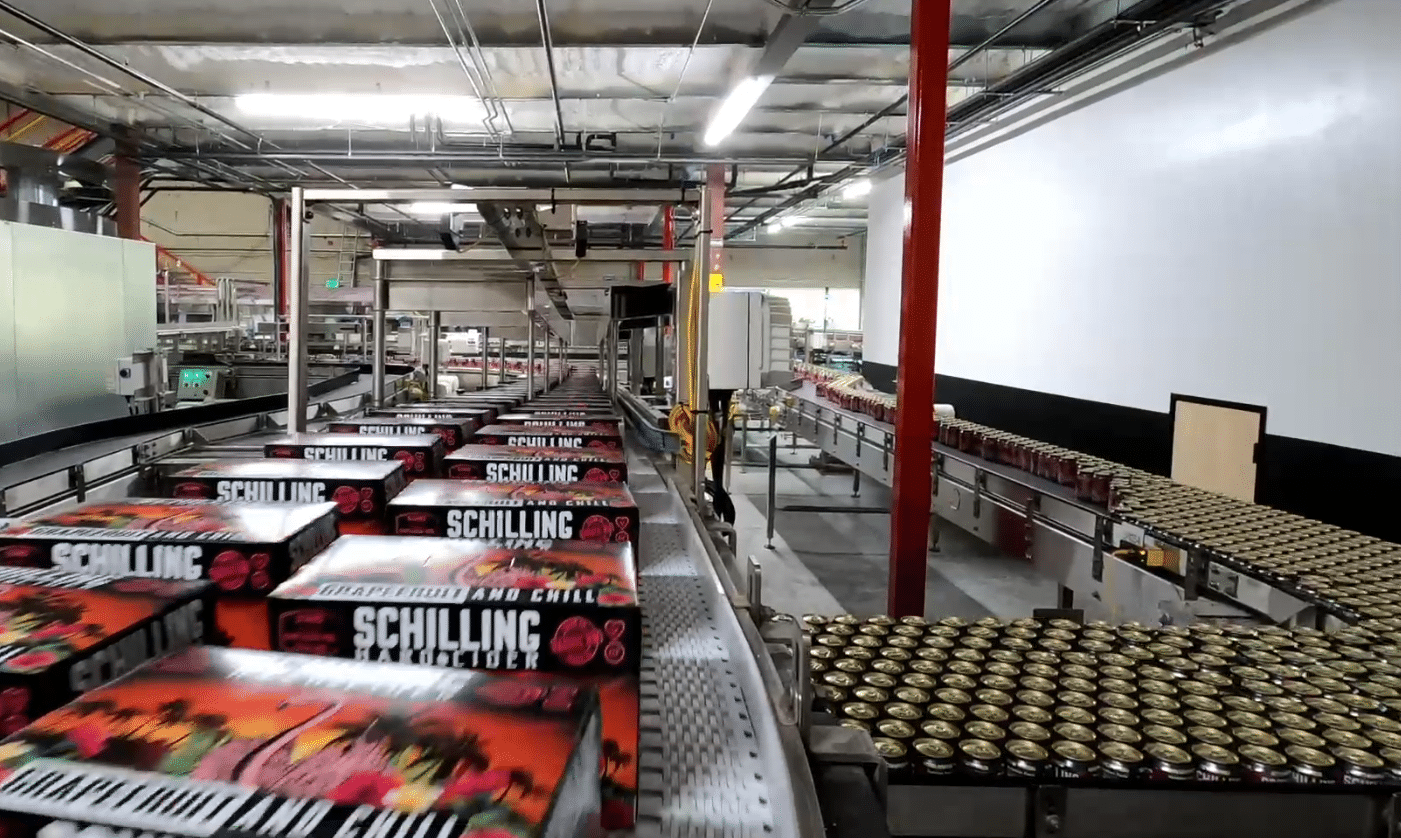 Building Long-Term Partnerships 
After consulting with a well-known integrator in the beverage industry, Mark Kornei ended up meeting with our Descon team at a tradeshow and hit it off. 
Our Descon experts were eager and excited at the opportunity to work with a talented up and comer in the cider industry. 
"The thing that sold Descon was the team.  There was a clear connection between the team working on the mechanical design and the team integrating everything.  People toss around the word 'integrated' in the industry but that is truly what Descon is."  – Mark Kornei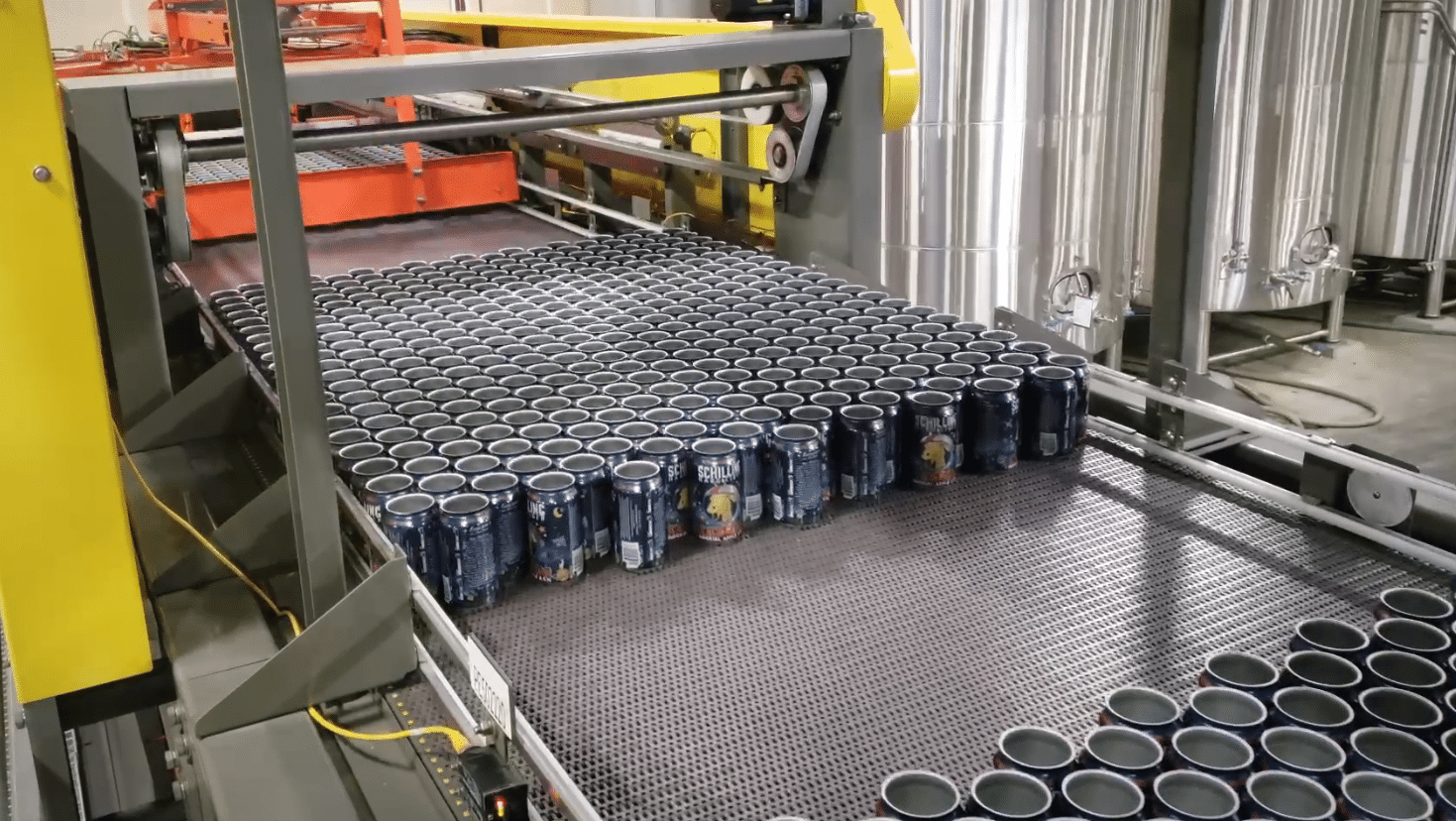 Schilling Cider Conveyor Project Objectives 
The objective for Schilling was to build a completely new line that had to:
Fit inside their existing production facility

Easily handle changes between multiple can sizes

Incorporate a tunnel pasteurizer

Offer multiple configurations for secondary packaging

Work cohesively together
"Any time you start a project of this scale there are going to be surprised.  There are vendors who make those surprises your problem and there are vendors who proactively work with you to solve the problem. Descon is the latter.  They have been that vendor during design, installation, commissioning, and ongoing.  The level of support that we have received has been exceptional… It's clear that we have a partner for the long term." – Mark Kornei
Check Out Schilling Cider Today
Schilling Cider is known for its distinctive whimsical branding. Each cider has a personality that precedes its flavor. The ciders are all depicted as lively characters and aim to incite nostalgia and delight.
In other words, Schilling Cider products are simply unmatched. 
Check out their 'Cider Finder' today. Which will you try first?
Excelsior Imperial Apple

London Dry

Grapefruit and Chill

Passport Pineapple Passionfruit

Local Legend Semi-Sweet

Seasonal Rotator

Curious to learn more about this exciting partnership?
Check out our Schilling Cider Case Study for all the facts and stats.