Discover The Descon Difference When Approaching Layout Design
Ask 100 engineers to create a system and you'll get 100 variations of designs. However, with Descon's experience and vetted tools, our layout design is driven by science. 
Whether you need a brand new solution or an enhancement of your current design, the experts at Descon Integrated Conveyor Solutions can help you achieve maximum efficiency and profit.
By choosing Descon as your solutions partner, you can rest easy knowing we have your best interest in mind – always. If there is an alternate solution, we will find it for you.
Curious as to how we do it? We sat down with David Destatte, Sales Manager & Industry Specialist at Descon, to dig deeper into the Descon Difference.  
Step One: Learning about the Client 
To us, relationship building and discovery are key to building a strong solution. Therefore, our first step in creating an efficient layout for a client is not to immediately dive into the detail but to instead work to grasp the big picture – walk a mile in their shoes. 
We ask questions like: 
What are you trying to accomplish? 

What does your growth plan look like?

What issue are you currently experiencing?
Not only does this stage allow us to fully understand the goals of our clients, but it also allows us to determine what is the best fit for their current and future needs.
"That's just one part of the Descon difference. While we're never shy to take on a new challenge, we will let our clients know if the solution they are looking for doesn't suit the application objectives." – David Destatte, Sales Manager & Industry Specialist at Descon
In the meantime, we'll dig deeper and ask more technical questions. It is in this deeper conversation that we'll get the ball rolling with properly designing the solution with collaboration and precision.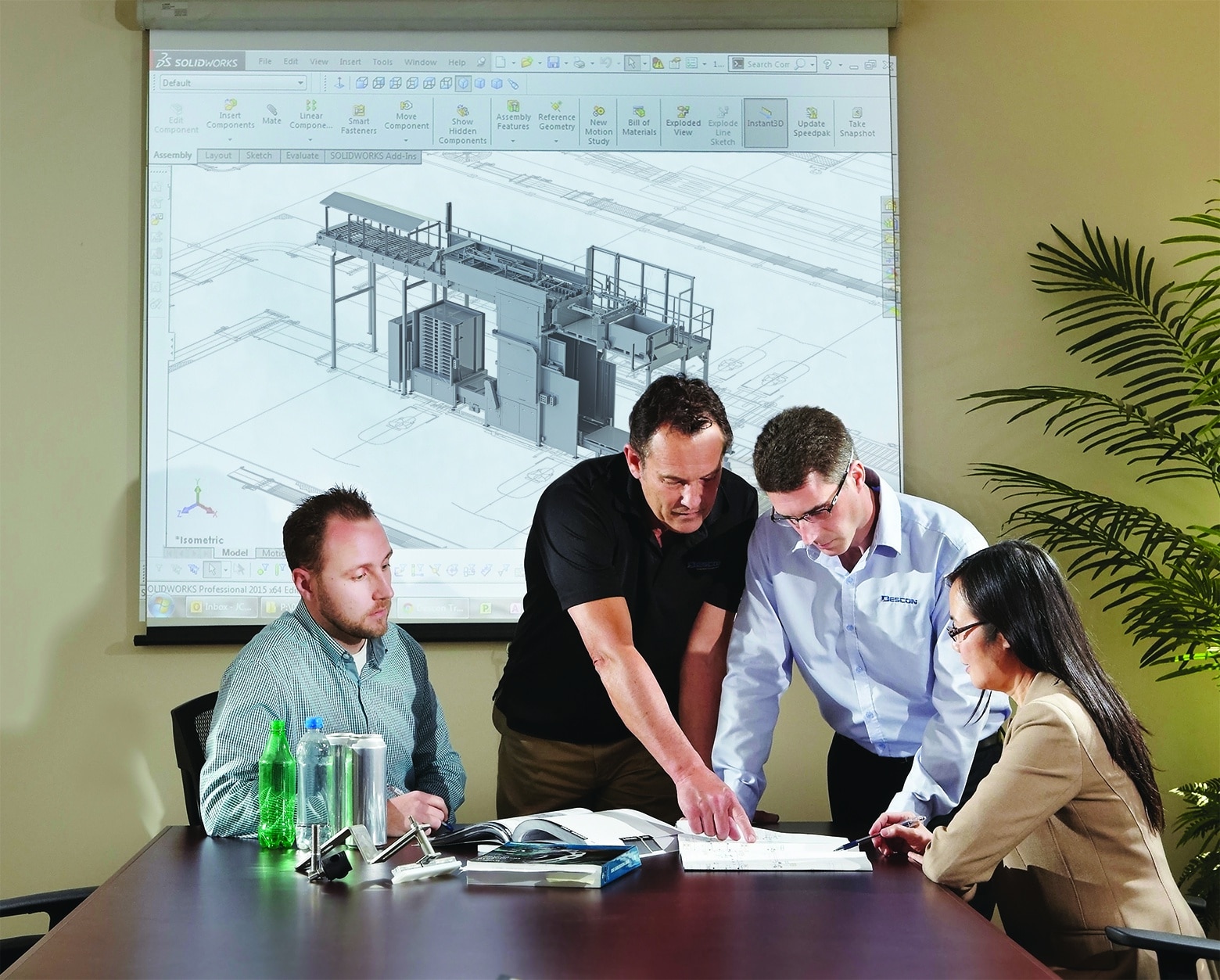 Step Two: Innovation through Visualization & Science
One of the keys to innovation at Descon is that we approach each design request by using both visualization and science.  
We've challenged our engineers to think outside of themselves. In other words, to use their experience and knowledge to visualize the product within the application and to picture, step by step how the product should move through a layout – focusing on the interfaces between the machine centres. 
Then, it all comes down to science and math. We will review our solution with the data provided and validate it through our internal tools to ensure that the proposed solution is sound and efficient.  It is at this stage we will verify that the line balancing and overall flow of the product are optimized.
"I always tell my team to BE the product. What I mean by that is that when you're designing a line you should anticipate the behaviour of the product throughout the layout." – David Destatte, Sales Manager & Industry Specialist at Descon
In the end, if the math doesn't make sense, the solution won't work.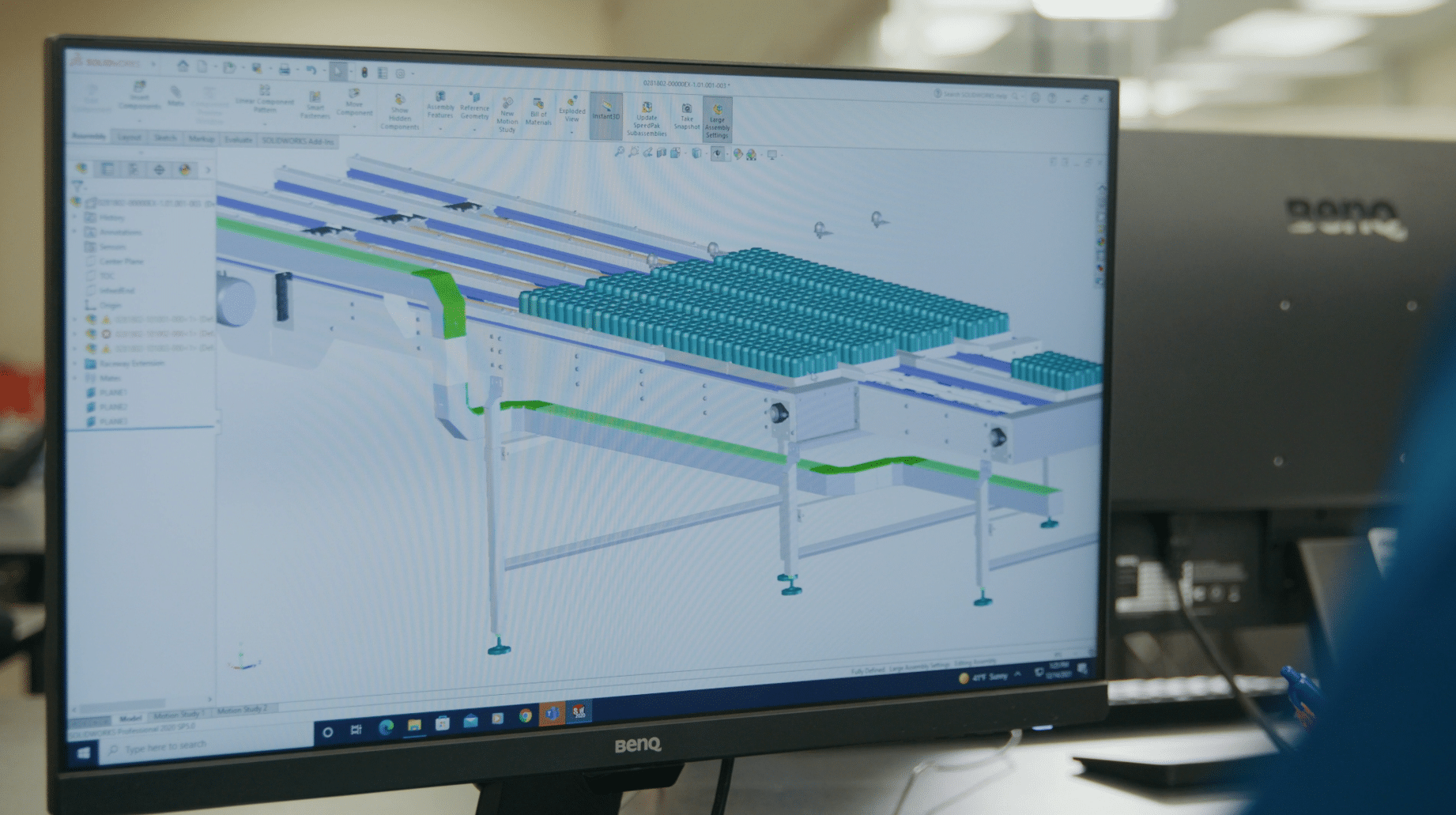 Step Three: Delivering the Best Solution within Budget 
At Descon, we know that budget and floor space are two of the largest constraints companies in the food and beverage industry face when it comes to designing their conveyor lines. 
"You have to balance the client's expectations with consideration of floor space and budget. At the end of the day, the return on investment for our customers has to make sense. At Descon, we will always try to deliver a balanced solution." – David Destatte, Sales Manager & Industry Specialist at Descon
As your dedicated partner, we will work with you to develop a line design that will fit within your current facility footprint and budget. At Descon, we'll also go to the extent of finding alternate or innovative technologies and applications that will help ensure your ROI will work.  
Your success is our success.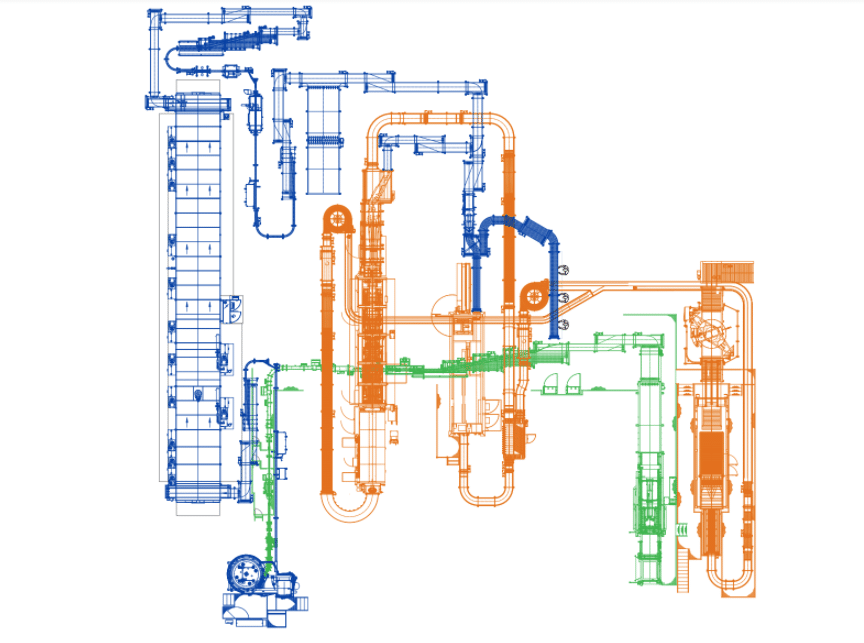 LEARN. INNOVATE. DELIVER!
That's The Descon Difference. 
Check out some of the projects we have completed for our clients.