Descon Featured Alongside Mill Street Brewery in Canadian Packaging Magazine
By George Guidoni, Editor
Photo by Naomi Hiltz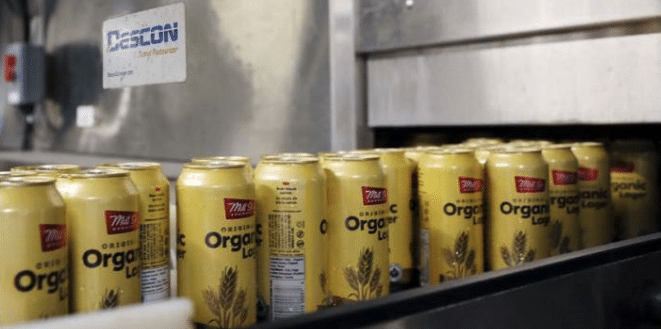 Mill Street Brewery
Doing the right thing for consumers and the environment has become a popular rallying cry for many consumer packaged goods companies in recent years, but there is a profound world of difference between brands simply jumping on the organic bandwagon as a marketing ploy and true believers like Mill Street Brewery in Toronto.
Founded in 2002 by Steve Abrams, Jeff Cooper and Michael Duggan, the upstart microbrewery—named after its original location at 55 Mill Street in the city's historic Distillery District—quickly became a rising star in Ontario's fledgling craft beer industry by deftly filling an existing market void with the launch of its signature Mill St. Organic Lager, a 100-percent natural, certified organic beer that was Ontario's very first organic lager and, nearly 20 years on, remains the company's best selling product to this day.
Highlights from the Article 
One of Mill Street's important 'around the corner' equipment suppliers is Descon Integrated Conveyor Solutions of Newmarket, Ontario.
A well-established provider of packaging solutions to the food and beverage industries, Descon supplied the Mill Street plant with two high-volume, custom-designed pasteurizing systems—one for the bottling line and the other for the canning line.
"The primary purpose of our machines is to pasteurize the beverages after they have been filled. Pasteurization is a vitally important heat treatment process applied to packaged products to eliminate pathogens and extend the shelf-life of the product," says Christopher Todorow,  Descon's Applications Engineer.
"The machines use water to deliver the required heat to the product from overhead spray nozzles that are fed by temperature-controlled tanks below," he says, adding both machines have performed superbly since being commissioned in December of 2015.
"The brewery used an existing steam boiler as a heat source for machines, whereby the steam piping from the boiler is fed to shell and tube heat exchangers provided with our machines. These heat exchangers regulate and control water temperature during the pasteurization process. Each machine has its own shell and tube heat exchanger," says Todorow, adding both machines were started up for full production within a month of being installed at the plant.
Single-Deck Model SDP 848 Pasteurizer
Manufactured and installed by Canadian machine-builder Descon Integrated Conveyor Solutions, the single-deck model SDP 848 pasteurizer can process up to 3000 Tallboy cans of beer per minute in continuous smooth-running operation, further enhanced by the machine's hygienic stainless-steel construction and highly efficient heat and power distribution enabled by high-performance components like the heavy-duty SEW-Eurodrive motors incorporated into the machine's design.
SDP 1070 Single-Deck Container Pasteurizer
Over on the plant's glass bottling line, Descon's model SDP 1070 single-deck container pasteurizer provides exceptionally gentle handling and smooth product flow for up to 450 355- ml glass bottles per minute, while Descon's model SDP 848 single-deck pasteurizer does the same for up to 300 Tallboy-style aluminum containers per minute on the canning line.
As Todorow relates, both machines offer multiple performance benefits of all stainless-steel 304 hygienic design and fabrication, non-clogging stainless-steel spray nozzles, continuous data recording/monitoring with integrated HMI (human-machine interface) touchscreen terminal, closed-loop PID temperature control, and integrated dynamic transfer conveyors, also manufactured and installed by Descon.
According to Todorow, the clean machine design reduces the likelihood of container contamination to maintain optimal product quality, while regenerative heat load helps to maximize process efficiency and reduce overall energy consumption.
Moreover, the machine's stepped infeed rail design helps to ensure a fully populated main-belt further contributing to the operation's OEE (overall equipment effectiveness) performance.
"Mill Street was a fantastic client to work with. Aside from the space limitations, the installation was fairly straightforward. The most important thing for us is that Mill Street was very pleased with the installation and equipment performance." – Todorow
Click here to see the full story.